Get Energized by New Electric Motor Parts
Electric motors are such a big part of your everyday life, but you may not even realize it. From your ceiling fan to your hard drive, electric motors are essential parts of your home. Thus, it's important to know the right place to find replacement electric motor parts. East Peoria IL residents will tell you the only place they trust for new electric motor parts is Armature Motor & Pump Co.
As a unique machine shop specializing in motors (and pumps), Armature Motor & Pump Co. can get you the right parts you need for any electrical motor. Also, our technicians understand the operation of most electrical motors and can determine what components you need to get them in working condition.
How is an Electric Motor Designed?
The inner mechanisms of an electric motor can be confusing for someone not familiar with their design. One-part electricity and one-part magnetism, electric motors use a variety of parts that keep it running at max power.
Stator

The stator is a series of small coils arranged in a circular pattern. When charged, an electrical current run through the coils and magnetizes them, pushing the rotor.

Rotor

The physical energy an electric motor produces is created by the rotor. Once a rotor starts spinning, it generates power into the shaft.

Shaft

As the shaft spins with the rotor, it helps to move the gears and belts attached to the various parts of the motor.

Gears and Belts

The gears and belts are what creates the actual function of the motor. Whatever action an electrical motor performs, it is all driven by the direction gears and belts run.

Bearings

So all the parts run smooth, bearings are included in the electric motor design to lessen the friction of parts rubbing together.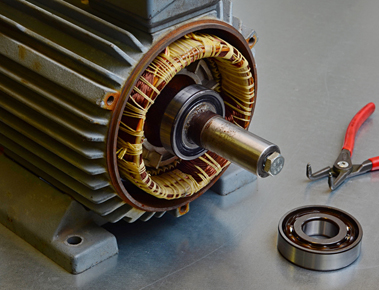 More Than Electric Motor Parts
In addition to offering electric motor parts, East Peoria residents rely on Armature Motor & Pump Co. for additional machine shop services. We specialize in:
Pump Replacement
Motor Replacement
Air Compressor Repair
Air Compressor Replacement
Laser Alignment for Motors
Dynamic Balancing for Pumps
And More
Find Out More
No other machine shop in Central Illinois does the quality work Armature Motor & Pump Co. can do. To request our services, give us a call today at
309-699-4267. Also, you may find us located at 3011 N. Main Street, East Peoria, IL 61611.