Find Out Why Your Electric Motor Isn't Functioning Properly
Is your equipment or machinery having trouble running? Instead of outright replacing, consider whether your electric motor can be fixed. For situations when repair is an option, quality electric motor parts Central IL offers can be found through Armature Motor & Pump Co.
From assorted brands, such as Abb Baldor, Victor Technologies and others, Armature Motor & Pump Co. can get you the electric motor parts you need. With our team of skilled technicians, we can identify any issue in an electric motor, and suggest solutions for repair that can be fast and affordable.
Signs of a Malfunctioning Electric Motor
So your electric motors don't break beyond repair, you must be able to identify the signs of a electric motor in need of new parts.
Running Hot

The components of an electric motor are designed to function without causing too much friction. This is due to the use of bearings. If you notice an electric motor running hot, the bearings may have worn out or are not being properly lubricated.

Sparking

When you start to see sparks fly out from an electric motor, there is a problem. Often, this means the motor brushes need replacing. Additionally, a burned commutator can be the source of the problem.

Shuts Off Suddenly

It can be dangerous if an electric motor shuts off without warning. The source of this problem is likely in the wiring or electricity being fed to the machine. Sometimes, switches can be worn and accidently shut off power to the motor.

Vibrations

A motor will vibrate, but never too much. If you notice excessive vibrations, it can be host to any number of problems. Loose screws and bolts can cause this issue, as well as a misaligned rotor.
How Else Can We Help?
Armature Motor & Pump Co. doesn't only sell new electric motor parts. Central IL locals can get their pumps, motors and air compressors repaired or replaced by one of our many technicians. Through laser alignment and dynamic balancing, we offer accurate service that is guaranteed to get your motors and pumps running better than ever.
The parts we sell, or fix include:
Pumps

Gaskets
Mechanical Seals
O-Rings
Belts
Check Valves
Motors
Pressure Switches
And More

Motors

Bearings
Belts
Pulleys
Variety of Switches
Electrical Connectors
Customized Parts
And More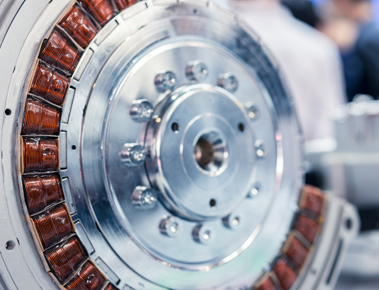 Talk with Our Technicians
If you need a machine shop that can help service your pumps, motors and air compressors, you've come to the right place with Armature Motor & Pump Co. Give us a call today at 309-699-4267. Also, you may find us located at 3011 N. Main Street, East Peoria, IL 61611.